Your home's brickwork and exterior walls are exposed to the elements. That means they can be affected by various natural phenomena, including mould and fungus. When you notice something on your wall that looks like it shouldn't be there, you can immediately become suspicious. At the same time, you might be unsure of what it is and if it's anything to worry about. Fortunately, most types of fungus and mould that might grow on your brickwork are easy to address.
If you're worried about mould or fungus looking unsightly or damaging your brickwork, you can clean it off and restore your walls.
Signs of Fungus or Mould on Brickwork
If there is mould or fungus on your brickwork, you're likely to spot the visual signs. It could look white, green, or black, and you might feel that it makes your walls look pretty grubby. Mould and fungus could look like moss or other organic matter. While some people might not pay it much attention, you might want to remove it as soon as you can.
As well as visible mould growth, you could see signs such as cracked and peeling paint or a smell coming from your brickwork. You can notice that the wall feels wet and soft or see stains on the wall too. Additionally, you could see signs of mould or damp inside your home.
Should I Worry?
Mould inside your home needs to be removed to prevent health problems and protect your interior walls. But what if you see mould or fungus on external brickwork? Do you need to be worried about it or can you leave it alone?
Mould on exterior walls may be less of a worry compared to finding it on interior walls. There's more ventilation outside so the health problems that mould could cause aren't as urgent a concern. However, mould growing outside can still be a health hazard, and it doesn't make your home look nice. Mould can also start to cause problems for your brickwork, eating into it and leading to cracks and worse. Addressing your exterior mould problem is the best thing to do if you want to remove these problems quickly.
Cleaning Mould and Fungus from Brickwork
Removing mould and fungus from your brickwork will help to preserve it so that you can avoid costly renovations later.
You might have tried to remove mould from brickwork yourself, but it can be tricky if you only have standard domestic cleaning supplies. After putting in some elbow grease, perhaps you've given up. But there are multiple solutions you can use if you want to remove mould from your walls.
Firstly, you can try a range of household products and solutions to remove mould. Products such as hydrogen peroxide and chlorine bleach are good options for killing mould and might help to prevent mould from coming back. However, you might also need to make some repairs to ensure mould doesn't return.
If you can't clean off the mould or just don't want to, call in professionals to do it for you. It saves you the effort and makes sure the mould is safely and effectively removed.
Token Cleaning use a variety of brick and stone cleaning methods to effectively clean all types of surfaces without causing damage. Before commencing, we carry out site surveys to establish which method will be successful. Contact us now on 01279 422 752 or email office@tokencleaning.com. Alternatively you can request a quote by clicking here.
Over 3 in 5 consumers will avoid a shop if it is dirty. Dirty streets impact everything from our living environment to how we feel about a commercial space. As a business or property owner, you can change the perception of the surrounding area by investing in commercial cleaning. Here's how dirty streets impact our living environment, and how commercial cleaning can improve the perception of your local area.
Negative Perception Of A Business
Graffiti can lead many consumers to have a negative perception of an area or business. The person walking by might connect that business to criminal activity and even avoid that unit in future. Customers may also feel less secure when entering your place of business, especially as graffiti is a sign that someone has engaged in criminal activity near your place of work. While it's not the business owner's fault there is graffiti, they can stop it impacting their business by investing in graffiti removal services.  
Cleaner Spaces Show You Care About Customers
Basic cleaning services like chewing gum removal and pressure washing pavements outside your premises can really show your customers that you care. Dirty outdoor spaces can give the impression that you don't care about your clients or your business. Taking the time to clean outdoor spaces can make you seem like a credible and reputable company. It can encourage brand loyalty and increased business from customers. From one cost-effective investment in commercial cleaning services, you will see the rewards in repeat business from customers into the future.
Your Local Area Matters
How we feel about where we live matters. Graffiti, chewing gum and litter all around our local public areas can make us feel negatively about where we grow up, raise our families and even the businesses we visit. As business owners, we can make our customers feel good about the area they live in by helping them keep their outdoor spaces clean. Businesses that invest into the local community may find themselves gaining a positive business reputation as a result.
Price Decreases Affect Everyone
You may think that one piece of graffiti has minimal impact. But as rubbish, dirt and grime build up gradually over a local area, it can have a lasting impact on everyone. You may see property prices decrease, or price drops of items in the local area to entice customers. Even the smallest increase in rubbish over time can significantly impact our living environment. Keep competition strong and pricing high with a simple investment in local cleaning services.
Conclusion
Dirty streets impact our living environment. One bit of graffiti can permanently class a business as a place to avoid. Yet clean spaces have the opposite effect – it shows that you care about your local area, and the people that live there. Over time, rubbish and dirt can impact how much you can charge for your goods or services. Invest in commercial cleaning services to keep your streets clean. Talk to Token Cleaning Services today for more advice on looking after your local area.
Is your home summer ready? There's nothing worse than getting into the summer months with a house exterior still dirty from winter. The external appearance of your home can significantly impact the perception of your property and a dirty home can even affect its value. Here's how to get your home summer ready with a spring clean up.
Why Should I Care About The Exterior Of My House?
The exterior of your house is the first thing a potential neighbour, house buyer, or even friend sees when they enter the property. When you're hosting it's an indication that you care about cleanliness in your home. When you're selling it's even more important as a clean exterior can put the buyer at ease and give them a positive perception of your property right from the outset.
Invest In Patio Cleaning
Over time, brick or stone patios can become dirty, with mould build-up and debris ruining your investment. You can restore your garden to its former glory by refreshing the space with a patio clean. High pressure washing can even remove oil and gum from patios, removing those difficult eyesore stains and making them ready for your summer barbeque. Spring cleaning your patio is far cheaper than investing in new stones and bricks, and can make your patio seem good as new.
Refresh Your Pathways
Are your pathways looking a little overgrown? The longer your pathway goes uncleaned, the more likely it is that you will eventually need to replace the path completely. Pathways can help to create definition in your garden, and path cleaning can save you money on costly repairs in the future. If you want to upgrade your garden this summer, a simple path cleaning alongside some new plants can completely transform an outdoor space.
Brick Cleaning
Are the external walls of your home looking dirty? With brick cleaning, you can restore the fresh look of your home ready for the summer months. JOS and TORC cleaning methods are even suitable for heritage buildings, with a gentle cleaning method that removes dirt, mould and even graffiti from external walls.
Window Cleaning
Your windows are the eyes of your home. You can clean up your entire garden only for your dirty windows to let you down. Don't let your windows ruin your clean summer exterior. Invest in window cleaning services to help clean your windows, conservatory, PVC windows, frames and doors. You'll thank yourself for the investment in summer when you're hosting your first event or even having potential buyers come and look at the property.
Don't Miss Your Spring Clean
Token Cleaning Services offers a spring clean up to make the exterior of your home summer-ready. Don't miss out as spaces are booking up fast already. Contact us today for your free quote and consultation on the best way to upgrade your home exterior ready for summer. We'll be able to offer expert advice on how to upgrade the exterior of your property whether you're looking to sell, or simply make the most of your garden this summer.
Preparing your outdoor space for the warmer months is often left until the last minute. However, with the best planning tips, you can get on top of your outdoor cleaning schedule and get a headstart with your garden in time for the warmer weather.
Tips For Planning Your Outdoor Cleaning Schedule
Book an expert
When you are considering improving the appearance and condition of your outdoor space for spring, then it will help to book in with an expert. Booking in advance will ensure that you get an expert way ahead of schedule so that you can get started with your garden sooner rather than later.
Start with the hardest task
After you have booked the expert, which will help with specific tasks, then the next step is to tackle the hardest task that you will do yourself. This will get it out of the way and make space and time for the smaller things. 
Set a day each week and check the weather
Setting a specific day and time each week to complete the outdoor cleaning will ensure that you stick to it. Checking the weather before the day will ensure that the rain or wind won't hinder your cleaning plans. Frequency is key and it will ensure that you attain maximum results for an outdoor cleaning schedule. 
To get a headstart with your outdoor cleaning schedule, book now with our experts here for sparkling patios and paths using our brick and stone cleaning service. You can enjoy your garden sooner and ensure it is ready and prepared for the upcoming warmer months full of outside dining and relaxing.
Get in touch with us today to talk through your needs. Why not Chat to us online, call us on 01279 422752 or send a message to office@tokencleaning.com. Further information about our full service range can be found on our website.
Paving and stone cleaning is no easy task. Cleaning the areas ahead of the spring months will ensure that you can make them look as good as new in preparation for the warmer weather. It improves the cleanliness and the look of your garden, which will make the space more inviting and satisfying when you want to spend more time outside again. 
Whether or not you are a keen outside cleaner or gardener, it is useful to get the help of the experts. Specialists such as Token Cleaning will ensure to get your paving and stone looking like new again.
Regular and seasonal cleaning of your garden paving and stone will ensure to maintain the appearance and condition of your garden. 
It is common to neglect your garden space when the weather gets cold. You will likely spend less time outside and therefore, not stay on top of your garden. Hence, when spring comes around, it is the perfect time to get your garden in order again so that when the weather gets warm enough, you can head straight outside and enjoy the space.
Hence, cleaning your paving and stone at home will ensure that you can make your garden look great again and make it usable for garden dinner parties, lounging in the sun, or simply getting some fresh air in the spring. 
The Benefits Of Paving & Stone Cleaning
There are many benefits of cleaning your paving and stone for spring. Over the colder and darker months, your outside space is vulnerable to moss, silt, organic waste, and blackened algae-stained stone. 
Hence, giving it a thorough clean with the help of the experts will help to restore the appearance and condition of your paving and stone. 
Although your own work might be good enough to make them look cleaner, the experts will ensure to provide the best results, which will make your garden look as good as it did before you neglected it. 
Other benefits and tips of paving and stone cleaning for spring include:
Stain removal. It can be difficult to remove stains. Hence, the experts will use chemicals to maximise stain removal and restore the original look and colour of the stone. 

Rinse. Every area of paving and stone will benefit from the rinse. Higher water pressure pipes will ensure to remove more dirt and stains than those with weaker pressure. Rinsing will remove the loose dirt and dirty patches. 

Inspect your stone for chips. When it comes to cleaning your paving and stone for spring, it is important to inspect for chips. This is so that you can restore your stones to enhance their look and also increase their safety. 
Get in touch with us today to talk through your needs. Why not Chat to us online, call us on 01279 422752 or send a message to office@tokencleaning.com. Further information about our full service range can be found on our website.
Ivy is a wall climbing plant that is resilient at the best of times. While it is certainly beautiful, it's not something that you want on your home. It's bad news for the buildings that it decides to cling to as ivy is known for holding moisture that can damage your brick. As such, you have got to try and get ivy off of your brick walls as soon as you notice it, but how can you do this?  In this article, we're going to be taking a look at some of the methods to try, so keep reading if you would like to find out more.
Pull And Cut
The first thing that you are going to need to do is cut the ivy from the root point which will come from the ground. From there, you are going to need to pull the ivy away from the wall, but you have got to be gentle. If you pull too hard, the ivy can damage the brick as it is coming away from the wall. Try to remove as much of the ivy as you can without pulling too hard.
Scrape And Scrub
If you want to try and get more of the ivy off, you can use a plastic or wooden scraper to try and scrape some of the rest off. The problem with this is that if you scrape too hard, you are going to damage the mortar of the walls. Once you have got the stem and root bits of the ivy off of the wall, you might see a number of hairlike tendrils that are still clinging to the brick. If this is the case, you are going to need a dry nylon scrub brush to get rid of these. If this isn't working then you can use some detergent and water while you are scrubbing.
Hire A Professional
Now you know how you can get ivy from your brick walls, but there is still a risk of damaging your brick and mortar. As such, instead of doing this you should consider hiring Token Cleaning to do the job for you. Using experienced professionals means that your brick and mortar is able to stay in the same fantastic condition without you having to worry about it. With years in the business of removing ivy, the process will be swift and efficient, which is just what you need. Instead of trying to go through the entire process on your own, hiring Token Cleaning's brick cleaning service will make your life that much simpler.
We hope that you have found this article helpful, and now see some of the things that you can do in order to remove ivy from your brick walls. In some cases this can get a little bit tricky, and it involves equipment that can be dangerous, so it's important that you do this carefully and safely to avoid issues. We wish you the very best of luck with this!
Get in touch with us today to talk through your needs. Why not Chat to us online, call us on 01279 422752 or send a message to office@tokencleaning.com. Further information about our full service range can be found on our website.
For a long time, it's been understood that air pollution can have all sorts of incredibly detrimental effects on public health – such as by increasing the extent of cardiovascular disease among the general population, in addition to even more serious concerns.
Much of the emphasis on tackling air pollution has rightly been placed on limiting the use of fossil fuels in favour of green alternatives, in addition to monitoring the automotive industry in order to ensure that certain harmful additives of fuel – such as lead – are no longer present.
In recent times, there has also been increasing awareness in certain circles about the potential harmful impacts of air pollution within homes, as research has revealed that common household appliances frequently release toxic compounds into the air. When combined with other irritants and pollutants commonly found within homes – such as pet dander and mould spores – the effect can be a home environment which is very detrimental to individual health.
What most people don't realise, however, is that there is research to suggest that dirt and grime on the outside of your home may contribute significantly to air pollution in your immediate environment, and in society at large, when that grime reacts with sunlight.
Worrying findings from the University of Toronto
A 2015 study from the University of Toronto investigated the question of whether urban grime was "inert," or whether it actually continued to exhibit active chemical processes that could have a detrimental effect.
For a long time, most people have assumed that urban grime was primarily an eyesore, but that it was not otherwise a significant factor in things like air pollution.
According to the findings of this research, however, the reality is much more concerning.
In the words of James Donaldson, a University of Toronto chemistry professor associated with the study:
"The current understanding of urban air pollution does not include the recycling of nitrogen oxides and potentially other compounds from building surfaces… but based on our field studies in a real-world environment, this is happening. We don't know yet to what extent this is occurring, but it may be quite a significant, and unaccounted for, contributor to air pollution in cities."
According to Donaldson, urban grime contains thousands of chemical compounds that may be volatile, and evidence suggests that these may react with sunlight to produce ozone, the major constituent element of smog, among other things.
A new perspective on environmental awareness
The question of environmental awareness has traditionally been viewed as a matter of reducing household waste and individual carbon footprints, and pursuing adequate industry regulation.
While these things are as valid as ever, however, findings like those listed above give a new perspective on environmental awareness. Specifically, they indicate that maintaining a clean and visually appealing home, inside and out, may actually be a significant factor in doing your part for the environment and for public health.
Services such as Token Cleaning can help you to get on top of the issue of a grimy and potentially harmful home exterior, courtesy of their brick and stone cleaning services — which include pressure washing, steam cleaning, grit blasting, and wet blasting, in order to ensure that your building is as clean as possible at the end of the process.
Get in touch with us today to talk through your needs. Why not Chat to us online, call us on 01279 422752 or send a message to office@tokencleaning.com. Further information about our full service range can be found on our website.
Do you check on how clean property is before checking its market value? Tidiness is essential in ensuring a home looks classy and high-end. If you are buying or selling a property, the first thing you would be interested in is checking the level of tidiness.
Cleanliness is the first thing you would recognise in a property. It influences how a property appears. Brick cleaning and patio cleaning are some of the ways of adding value to a property.
Brick cleaning is essential in improving the outward appearance of any property since it involves dirt removal from the walls. It could also entail removing spider webs or applying new paint. Some install different wallpapers over cleaned walls to enhance home appearance. Patio cleaning could also add more coins to a property since it involves repairing worn-out areas or moss removal.
Any homeowner would be interested in chasing maximum profits from a property sale. Selling a clean home can earn you extra money for the following reasons:
Reduces Homeowner's Work
Most people prefer moving to a home that is already clean to reduce the workload and time spent cleaning up everything. Imagine if you were moving to a mansion that is not well cleaned. Paying for home purchase and cleaning services may equal getting two different homes. Many home buyers would prefer buying a cleaner home at a slightly higher price than getting cleaning services for the entire house.
Shows Value for Home Buyers
Displaying clean homes for sale attracts more money because customers would feel valued. It would change the buyer's perspective towards buying the property regardless of its price. Being valued is a show of respect.
Property Quality
Property cleanliness is usually associated with its quality. A clean home may entail repairing and furnishing old furniture, well-designed rooms, and fantastic decor. These are all things that home buyers consider before purchasing any property. Keeping these in check puts a property at a top-level price in the market.
Develops Interest
It is possible to have several potential buyers for a single property. Such buyers are usually attracted to the appearance of the home, especially when the house is decluttered. Cleaning creates interest in buyers towards a property because of perceiving it to be the most valuable.
Relieves Homeowners of Scary Mildews and Mould
Owning a home should be the best thing in a person's life. It cannot be the best home if it has mildew, would it? Cleaning assures homeowners of the best voice out of the market. How would you know a home does not have these kinds of things?
Mildew is usually in dumb areas like kitchen sinks and bathrooms. These areas are a few of the essential parts of a home. This is why deep cleaning such areas would boost the home's ability to get customers no matter its price.
Pretty Home
Who wouldn't love a lovely home? Cleaning involves organising storage cabinets, vacuuming carpets, a well-maintained garage, and good furniture. These are all activities that would make a home look extra pretty.
An attractive home would be irresistible to any home buyer, even if its price is a few pounds more.
Conclusion
Home cleaning should be an essential activity, especially for anyone looking to put up a property for sale. Homebuyers may line up looking for a clean home and relieve you of the market burden.
If you need to spruce up your property, then contact Token Cleaning by emailing office@tokencleaning.com or give us a call on 01279 422752. Full details of all our services can be found on our website.
A patio is one of the most joyful additions to your home. It can completely transform your garden into a  summer delight where the best of times can be had. But like anything that sits outside, your patio is prone to becoming damaged, dirty or even vandalised. But don't fear, as all is not lost. Your patio can be rescued.
Some of the best methods involved:
Cleaning Services
Regular Maintenance
A Little Sprucing
Sometimes all that's needed is a quick clean by a professional to revitalise your patio. You can also maintain your sitting area with some regular work that takes no time when kept up. Then all you need to do is spruce it up with some natural decoration like a planter and herbs.
Cleaning Services
Your patio might look terrible, but it might only need a clean by a professional. The right tools for the job are necessary, though, and luckily for you, we have everything you could ever need.
Wet and Dry Blasting
One of the simplest methods of stone cleaning is by blasting it. Wet blasting involves using an abrasive mix of damp and dry particles to get rid of stubborn dirt. Dry blasting works similarly for both stone and brick cleaning using a high-pressure jet of grit.
Pressure and Steam Cleaning
Water is a common element used for cleaning almost everything. We can clean your patio using water in two ways. We can use a high-pressure water jet to remove dirt and deposits or steam to remove more difficult artefacts like gum, oil and moss.
JOS and TORC
For a more delicate job, we can also use JOS and TORC. These two types of cleaning methods that operate at a much lower pressure. As a result, they are better suited to older buildings where damage might be a concern. They are also effective at graffiti removal.
Regular Maintenance
Of course, following a good clean, you need to ensure that your patio keeps its new shine for many more years to come. Lousy weather, nature's creeping hand and general wear and tear will affect your deck over time. But you can help keep it maintained with some regular chores that won't break the bank or your back if you do them as much as needed.
First, you should regularly brush and remove debris from your patio. This should be done daily if possible. Debris can accumulate and get trodden into the recesses of stone and brick, making it look dirty. Although we are experts at power washing, a home power washer will help significantly for everyday soil. Finally, pay attention to weeds. Weeds will grow through pavers and brick. So kill and pick them as much as possible from around and inside your patio.
Add Some Stuff
Garden decoration is nothing new, but it is a growing trend. Millions of people all over the country love to spend time shopping around garden centres and DIY stores. And fortunately, you can get great deals on garden items that will transform your patio into a personal oasis.
You might like to garden a little, then again, you might not. But you do enjoy eating, right? Planters are very cheap and can hold multiple types of herbs. Herbs like Rosemary and Thyme require almost no effort to grow outside, and they can be used in various recipes. Additionally, they look amazing when fully grown and flowering, and promote pollination by bees.
If you need to spruce up your patio, then contact Token Cleaning by emailing office@tokencleaning.com or give us a call on 01279 422752. Full details of all our services can be found on our website.
It's always important to maintain a clean exterior of a building, whether that building is your home or your place of business. Sometimes, that means sweeping the environment or clearing away any debris. At other times, that'll mean cleaning hard surfaces, such as bricks. Brick cleaning can be a challenge if you only have domestic cleaning products to use, but if you work with a professional company such as Token Cleaning, then you'll find that the process is pretty straightforward!
There are, of course, many reasons why you may need to undertake a stone cleaning project. It could be that you've spilt paint on your driveway or that your business premises have been targeted by graffiti artists. Whatever the reason, you'll need to get that paint off. At Token Cleaning, we use steam cleaning for graffiti removal and other jobs that require that paint be removed from bricks.
Steam Cleaning
Steam cleaning is a highly effective and affordable way to get bricks looking as good as new. With our tools, water is converted to steam, and then sometimes, we add a few chemicals into the mix to ensure maximum results. This works well because through steam cleaning, we're able to reach some hard to reach places that other methods would struggle to reach. If you arrive at your business and find that there's graffiti on the walls, then this will be the perfect solution to get rid of it all. This is also a highly effective way to make your driveway look like new. While this will help to get paint off your bricks, this service can also be used for a whole host of projects. For example, it'll help to get rid of organic matter that has accumulated on your patio and can also be used to remove gum. Whatever it is that you're trying to get rid of at your home or business, there'll be an effective solution that'll do the job.
Eco Friendly
There are some companies that say they can get paint off bricks. And they can. The only issue is the process they use to complete the job. There are various ways to get paint from bricks, but not all of them are safe – for people or the environment. At Token Cleaning, we make sure that all the ingredients we use are safe for use. That means that they're non-toxic, perfume-free, and hypo-allergenic solutions. When we begin a project, we analyse what the correct ingredients to use will be and also discuss any concerns that you may have.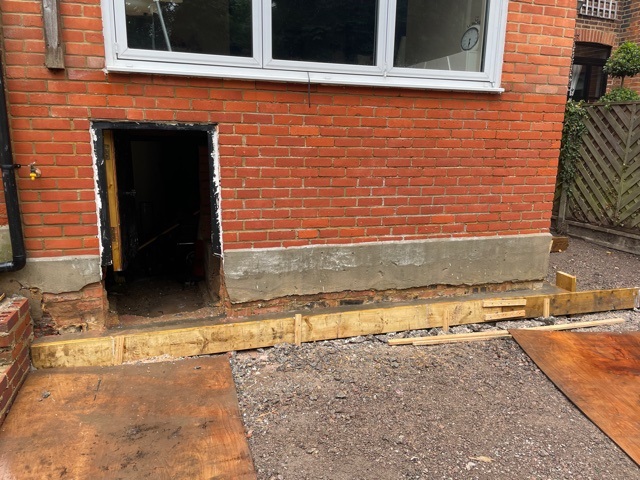 If you need to get paint off bricks, then be sure to get in touch. You can call us at 01279 422752 or send an email to office@tokencleaning.com. Alternatively, you can also click the 'request a quote' button at the top of this page and fill out the form. No matter what type of paint removal service you need, when you work with Token Cleaning, you'll have peace of mind that you're in the best hands possible.
---