Token Cleaning recently completed a cleaning project on the eye-catching granite paving at Stratford.
Working on behalf of award winning Maylim at the iconic Stratford Centre, Token Cleaning chemically cleaned and steam pressure washed the paving to reveal a stunning result.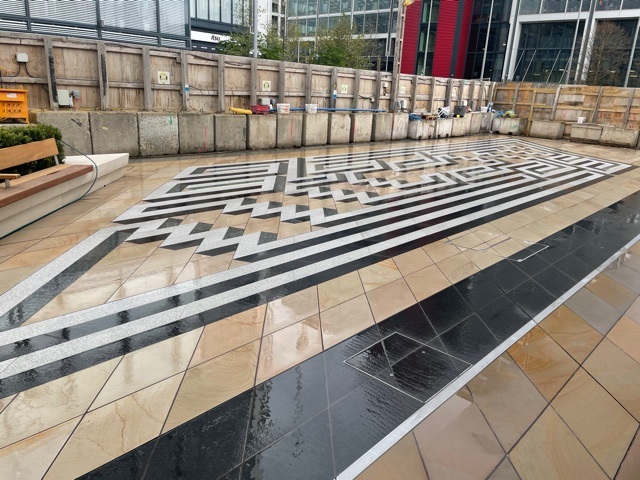 Token Cleaning generally use an array of brick and stone cleaning methods to clean and maintain all types of surfaces without causing damage. However, before we start any job, we always do site surveys to look at which method will be most successful.
In this case steam cleaning and chemical cleaning was used to remove dirt and grime from hard-to-reach grooves. Trained operatives ensured the temperature of the steam is correct to carry out brick and stone cleaning safely.
Token Cleaning Services is a premier cleaning company with a fully-equipped fleet of vehicles, and a team available 24/7. We can promptly provide professional cleaning services that include brick and stone cleaning, drain cleaning,  graffiti removal, steam cleaning and window cleaning services for commercial, industrial and domestic clients as required.
Get in touch with us today to talk through your needs. Why not Chat to us online, call us on 01279 422752 or send a message to office@tokencleaning.com. Further information about our full service range can be found on our website.
Patios, stone paving areas, and driveways are perfect breeding grounds for a recurring problem we face annually. These areas and surfaces gather a build-up of an unpleasant green substance which is not only an eyesore, but it also becomes slippery and dangerous.
In most cases, your patio area is turning green from the growth of algae, lichens, liverworts, and moss. These tend to grow in the shade when the weather is damp and cool.
Fortunately, this a naturally occurring issue that has a relatively easy fix.
Algae
Algae are most likely the source of the green colour that appears on your patio. It is a wet, almost jelly-like substance.
Lichens
Lichens appear on surfaces like timber as well as paving and stone. They are dryer than algae and look leaf-like or crusty.
Liverworts
Liverworts are green in colour and appear like flattened plants with no leaves.
Moss
The most commonly known of the four, moss is soft, dense, and green in colour. It often covers hard surfaces like walls, patios, and driveways.
Are algae, lichens, liverworts, or moss dangerous?
For the most part, algae, lichens, liverworts, and moss that appear on your outdoor surfaces do not pose health hazards. However, they should never be ingested, and you should wash your hands if you come in direct contact with some.
The main danger they pose is their ability to make a surface slippery.
How Can I remove Algae from my patio?
Algae, lichens, liverworts, and moss are relatively easy to remove. They do not permanently stain or damage the surfaces that they live on. Here are some practical solutions for removing them:
Use a yard brush
Use a yard brush with wire bristles to remove the green build-up. If the bristles don't reach through cracks or gaps, try using a knife or flat object to clear out those hard to reach areas.
Pressure wash the area
Use a pressure washer or other outdoor cleaning methods (wet blasting, grit blasting, JOS and TORC cleaning) to remove the algae, lichens, liverworts, and moss. This should effectively remove the green staining also.
Ensure that you properly drain the area, as failure to do so will result in another build-up of algae and moss.
Hire professionals
Professional cleaning services such as Token cleaning deal with this type of issue daily. They have the equipment, tools, and expertise to clean your stained surfaces with ease.
How do I prevent further build-up of Algae
Effective drainage
Try to avoid water and moisture from stagnating on surfaces. Water can be a catalyst for the growth of most algae and moss.
Brush regularly
Regularly brushing your patio with a wired or firm brush can prevent another build up of algae.
Use the right weedkiller
Consult your local hardware store or garden centre for expert advice on what weedkiller you should use. As a rule of thumb, most patio and surface cleaners will help with the removal of algae, lichens, liverworts, and moss, but repeat use is necessary to keep them at bay.
Does your roof look old and worn out for its age?
Is it covered in algae, lichen or moss?
This is nature at its best causing problems for home and property owners all over the country. Unfortunately, over time, lichens and mosses make the roof look scruffy and if not treated with the appropriate cleaning methods you may run the risk of unnecessary damage such as broken tiles and leaks.
Why proper cleaning is so important
In the UK one of the most common materials used for roof tiles is concrete. The outside of the tile is grainy, and this part is exposed to the elements. Whilst it is designed to gradually wear away over a life span of up to 100 years, the use of an abrasive cleaning method such as high-powered jet washing could shorten the life of the tiles by prematurely stripping off the surface.
The drainage of water down the roof could be seriously affected by significant moss and lichen growth and this should be removed so that water does not find its way into the roof space.
How to remove moss and dirt from roof tiles
A professional cleaning company is a definite must. Having the right materials and equipment to ensure the work is done safely and to reduce the risk of damage to the roof is a priority. Steam cleaning is an incredibly effective way of removing dirt from both soft materials and hard surfaces. It has the ability to loosen dirt, disinfect surfaces, remove stains and eliminate foreign contaminants.
Cleaning of high and awkward parts of a building
Cleaning your roof tiles from time to time allows rainwater can drain away freely and it will create a new refreshed look for your property. So why not make your property stand out from the rest by having your roof gently steam cleaned. Call Token Cleaning today 01279 422752 or email office@tokencleaning.com
Bricks are one of the world's most sturdy building materials. A popular choice when constructing a property or landscaping, it can last for 100's of years – if it's maintained correctly of course. Many think that bricks will last without any maintenance, but to retain its structure, there are a few things that you should do.
Whether it's a patio, pavement, wall or driveway, brickwork might seem like a struggle to maintain. But don't worry, there are plenty of methods that you can use to revitalise and maintain the look of it. Guaranteeing that it endures for many years to come, the following methods could be used in conjunction with one another:
Mortar Pointing 
If you've noticed that the mortar on your exterior walls is falling apart, it's a good idea to consider repointing it. Increasing the stability and performance of the brickwork, you can rest assured that your home remains safe. It will also make it look more visually appealing – a bonus if you're thinking about selling your property in the near future.
Free From Graffiti
Graffiti can be a real inconvenience – especially when it's on your property or place of work. So it's important that you keep your brickwork free of it. Not only does spray paint look horrible, but it will also weaken your building's layer of protection – opening it up to the elements. The longer it's left, the more damage it does to the underlying material. 
So in order to maintain the look and structure of your brickwork, it's vital that you look into graffiti removal services.
Brick Cleaning 
Just like stone cleaning, brick cleaning is essential if you want your brickwork to last. Effectively cleaning the surface, it disposes of any dirt/grit/moss and other materials so that your brickwork is kept nicer for longer. 
Using an array of methods, from wet blasting to grit blasting, JOS and TORC cleaning, your brickwork will be transformed so that it looks brand new again.
Steam Cleaning 
A form of brick and stone cleaning, steam cleaning is a very effective method that will remove moss and other deposits from your brickwork. Perfect for those looking to maintain their brickwork in the long term, it utilises the latest technology to create an extraordinary effect.
Replace Lintels 
In any brick building, lintels will need to be replaced from time to time. Steel or horizontal beams which run above your door or window, it ensures that the structural integrity of the building is maintained. 
Over the years, bricks will start to deteriorate due to the elements – so to guarantee that it's well-kept, you might need to replace a window lintel.
Fill Any Cracks of Holes
If you notice any cracks or holes – whether it's in your exterior wall, patio or driveway, it's a good idea to fill it. A hole or crack can not only put your building's integrity at risk, but can also pose a safety risk when it comes to people walking on your drive/driving onto it (an issue we will discuss further below).
Why it's Important To Maintain Your Brickwork
Not only is it important in the sense that it will keep the brickwork looking good for longer, but it will ensure that it's safe. You don't want to put you or your loved ones at risk because of faulty brickwork. 
You want to make sure that all of your walls are sealed correctly, any holes are filled in your driveway and that the brickwork isn't compromised in any way. Holes or cracks in bricks on your driveway could cause people to trip over or cars to have punctured wheels if they drive onto it too quickly. 
Contact us Today
At Token Cleaning Services, we offer an array of brick and stone cleaning services that are perfect for homeowners and business owners alike. Experts in the field, we use our skills and state of the art equipment to transform your brickwork. Maintaining it and ensuring that it's beautiful for longer, you'll love the results. 
To find out more about our services, don't hesitate to contact us today. You can do this by either calling us on 01279 422752, emailing us on office@tokencleaning.com or through our easy to use online form. We look forward to hearing from you. 
Everyone wants a well-maintained and aesthetically-pleasing driveway. The first thing that visitors see, there's nothing better than a clean drive. But how do you revitalise your driveway and ensure that it's kept looking pristine throughout the year? We've got you covered – here are the top ways that you can keep your drive in a good condition so that it's beautiful, safe and immaculate for longer:
Brick and Stone Cleaning
Brick cleaning or stone cleaning is a great way to get your drive back to the way that it once looked. Using state-of-the-art equipment and first-rate techniques, your drive will look brand new.
Getting rid of the built-in dirt and grit, this process reveals the alluring natural colours of brick and stone by removing particles from the grooves and fissures.
Brick and stone cleaning can be done with one of the following methods:
Wet Blasting
Grit Blasting
High Pressure Washing
JOS and TORC Cleaning
Steam Cleaning
Another key method that you can use to keep your drive in good condition is steam cleaning. Undertaken by a professional, this specialist approach is used to remove oil, moss and other deposits (such as fungi) from your drive. Combining the high pressure equipment with heated water, it's an effective method that's ideal for cleaning brickwork.
Killing the bacteria, it prevents it from coming back in the future. Minimising the risk of damage, it's favoured amongst many that prefer a fuss-free method over using harsh chemicals on their drive.
Fill any Cracks and Holes
As well as cleaning your driveway, spend some time examining it for any cracks or holes. To fill these, you can use a material such as caulk. Ensuring that your driveway is not only beautiful but also safe for drivers, it's a way of maintaining it in the long term.
You should also reseal it when you can – preventing any dirt or grit to get through the gaps.
General Maintenance
As well as the above, you want to ensure you are treating your drive with care throughout the year. Taking time to remove any weeds/moss as it appears, you'll have a nicer drive for longer.
You also want to make sure that you're minimising the amount of water that's on it – clearing edges around it so that water has a runoff area and protecting it by moving any downspouts away from it. This will reduce the chances of it penetrating and destroying the surface.
Why You Should Keep a Well Maintained Driveway
A Safe Driveway
Keeping a well-maintained drive isn't just about the look of it. You will also want to keep it clear from debris or dirt so that it lasts for years to come. A drive that's in good condition will be safer; a damaged drive can be a very serious safety concern.
If it's riddled with cracks or holes, it can cause people to fall over and hurt themselves or cars to have punctured wheels. A moss-ridden driveway also poses a concern when it comes to vehicle safety as it could cause a car to lose traction.
Increased Home Value
Going back to the aesthetics of it, it's important to know that the way that your drive looks could affect the value of your home. When it comes time to sell your house, you want to ensure that the potential homeowner is impressed from the moment that they arrive after all.
Contact Token Cleaning Services
If you're looking for high-quality brick and stone cleaning services, look no further then Token Cleaning Services. Using cutting-edge equipment and extraordinary techniques, we'll ensure that your drive is clear of debris and other materials.
To find out more, get in contact with us today by either calling us on 01279 422752 or 07860 233343. Alternatively, you can fill out our easy to use online form. Covering cleaning services in Essex, Hertfordshire and London, our services are second to none.
Everyone wants a durable and visually-attractive pavement – whether it's on your driveway or pathway. A key feature that visitors pay attention to the moment that they arrive at your office or home, you want to ensure that it's clean and well-maintained throughout the year. Why you might ask? Well leaves, water or dirt on the paving can pose a number of issues for it.
Below, we'll explore why it's important to maintain your paving, along with what could happen if you don't.
The Importance of Leaf Clearance
Not only could leaves stain the paving, affecting the overall look of it, but it also creates a safety risk. Even though these leaves might look aesthetically appealing when they fall in autumn, they are extremely slippery – putting you and your guests at risk when they walk on it.
When it rains and water builds up with the leaves, it will also affect the performance of the paving in the long term. In the UK, rain is almost a given. So once you notice a buildup of water and leaves, it's essential that you have it cleared as soon as possible to prevent any flooding.
The Damage of Dirt/Moss
Similarly, any dirt or moss that's left on the paving will pose a safety risk and affect the durability of your paving. Getting into the cracks, it's wear and tear that should be maintained throughout the year. Without doing so, your paving will only last for a short period of time before it begins to deteriorate.
How To Maintain Your Paving
So how do you maintain your paving so that it's better for longer? Below are some of the main methods that you could use to guarantee that your paving is durable and beautiful for many years to come:
Brick and Stone Cleaning
Along with brushing your leaves away with a broom, you could invest in brick and stone cleaning services. Using effective, high-quality equipment and techniques, it will clean your paving. From JOS and TORC cleaning to wet blasting and grit blasting, it's a method that won't cause damage to your pavement.
Steam Cleaning
Alongside brick and stone cleaning, for paving, you could also opt for steam cleaning. An effective way of removing dirt from grooves, it uses a cutting-edge machine to convert water into steam. Eco-friendly, it's an ideal option that will eradicate any damaging grime from your driveway or path.
Contact us today
Do you want to find out about our brick and stone cleaning services or the other services we offer? Then get in contact with us today. You can do this by either calling us on 01279 422752 or by emailing us on office@tokencleaning.com.
Covering Essex, London and Hertfordshire, we're your first port of call when you're looking for high-quality cleaning services in the area. Working within your budget and time frame, we're a popular choice for many – receiving consistent glowing reviews over the years.
---