Banksy is one of the most well-known and controversial figures in the art world. His works are some of the most celebrated in the world. Replications of his work adorn countless books, t-shirts and other memorabilia.
As such, there's much debate as to whether Banksy is dangerous artist dedicated to a counterculture that counteracts the wealthy, elite bourgeoisie so commonly associated with the world of art… or whether he's just another vandal and criminal. Adored by the disenfranchised working classes and the hipsters of Shoreditch alike, Banksy's is a name that's always likely to invite conversation. Especially in his most recent work
Banksy delivers a public safety announcement on the underground
Last month, Banksy posted a video on his official Instagram page of a man disguised as a cleaner (presumably the anonymous artist) making his way into a London underground train. The artist then stencilled the images of rats sneezing clouds of surgical mask-coloured spray paint. A clear message in support of wearing face masks on public transport to halve the spread of COVID-19. A measure that has been a legal requisite for some time, but one which many commuters seem to flout with impunity.
The legitimacy of graffiti
Banksy is by no means the only graffiti artist using his craft to make a political statement. Many artists like the French graffiti maestro Blek le Rat (whom Banksy cites as an influence) have been using graffiti to make political statements with a dark, subversive sense of humour for a long while. However, Banksy's popularity has shone a very particular spotlight on the legitimacy of graffiti since he became active in the 1990s.
His proponents argue that his work will arguably be seen by and influence more people than most fine art which sits in galleries viewed only by a relatively small audience that is mostly white, affluent and middle or upper class.
Location, location, location
Perhaps the issue, then, isn't Banksy's craft or his political message, but the fact that he applies his craft in places where graffiti is explicitly prohibited. Indeed, a statement released by Transport for London stated that it appreciated "the sentiment of encouraging people to wear face coverings"… "We'd like to offer Banksy the chance to do a new version of his message for our customers in a suitable location".
But would such a suitable location be fundamentally at odds with the graffiti artist's imperative to bring art to the people? It's certainly a point worth debating.
We're here to clean your unwelcome graffiti
Whatever your opinion of Banksy, the unfortunate truth is that many of the people who graffiti people's homes and businesses or municipal property are as talented, discerning or politically motivated. And graffiti of any sort, whether it's a bold political statement or simply someone's initials can be a poor look for your home or business.
The good news is that we're here to get rid of all your graffiti, leaving your exteriors looking spotless. Token Cleaning Services is a premier cleaning company with a fully-equipped fleet of vehicles, and a team available 24/7. We can promptly provide professional cleaning services that include brick and stone cleaning, drain cleaning,  graffiti removal, steam cleaning and window cleaning services for commercial, industrial and domestic clients as required.
Get in touch with us today to talk through your needs. Why not Chat to us online, call us on 01279 422752 or send a message to office@tokencleaning.com. Further information about our full service range can be found on our website https://www.tokencleaning.com/
Graffiti can cause damage to delicate or decorated surfaces. Possibly giving the appearance of being run down, even threatening, it could put visitors or potential customers off.
All is not lost though because all types of graffiti from spray paints, marker pens and acrylic paints can be removed from porous and non-porous surfaces such as concrete, stone, brick, wood, plastic and glass and others. Token Cleaning  has proven techniques which combine high-pressure jet washing, warm water and non-hazardous chemicals. Even the most challenging graffiti can be removed whilst avoiding underlying surface damage and resulting repair.
A ghost mark or shadow will still be visible on the surface once the graffiti has been removed. Token Cleaning can also erase ghost marks once the first stages of our graffiti removal services are completed
Examples of before and after Graffiti removal by Token Cleaning
Graffiti was removed by chemicals from the galvanised roller shutter at T M Lewin in Bishopsgate London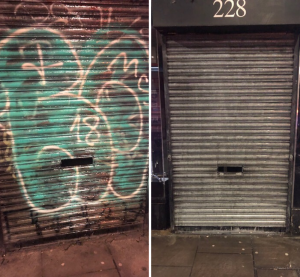 In Horsham, graffiti was removed by chemical cleaning and steam pressure washing to an underpass for Berkeley homes.
Anti-Graffiti Protection and Pavement Sealing
To offer further protection, an anti-graffiti protective coating and pavement sealing can be applied to protect surfaces from graffiti, gum and other contaminating substances. It limits environmental damage and if graffiti appears again, it can be easily removed with hot water or gentle chemical solutions.
Token Cleaning's permanent and sacrificial coatings can be used on painted surfaces, brick, metal as well as all other porous or non-porous surfaces.
We also provide specialist invisible pavement sealing services to provide protection and a barrier on even the most porous surfaces from chewing gum, grease and other contaminants.
To find out more about drain unblocking and maintenance, contact Token Cleaning now on 01279 422752 or 07860 233343.
Bricks are one of the world's most sturdy building materials. A popular choice when constructing a property or landscaping, it can last for 100's of years – if it's maintained correctly of course. Many think that bricks will last without any maintenance, but to retain its structure, there are a few things that you should do.
Whether it's a patio, pavement, wall or driveway, brickwork might seem like a struggle to maintain. But don't worry, there are plenty of methods that you can use to revitalise and maintain the look of it. Guaranteeing that it endures for many years to come, the following methods could be used in conjunction with one another:
Mortar Pointing 
If you've noticed that the mortar on your exterior walls is falling apart, it's a good idea to consider repointing it. Increasing the stability and performance of the brickwork, you can rest assured that your home remains safe. It will also make it look more visually appealing – a bonus if you're thinking about selling your property in the near future.
Free From Graffiti
Graffiti can be a real inconvenience – especially when it's on your property or place of work. So it's important that you keep your brickwork free of it. Not only does spray paint look horrible, but it will also weaken your building's layer of protection – opening it up to the elements. The longer it's left, the more damage it does to the underlying material. 
So in order to maintain the look and structure of your brickwork, it's vital that you look into graffiti removal services.
Brick Cleaning 
Just like stone cleaning, brick cleaning is essential if you want your brickwork to last. Effectively cleaning the surface, it disposes of any dirt/grit/moss and other materials so that your brickwork is kept nicer for longer. 
Using an array of methods, from wet blasting to grit blasting, JOS and TORC cleaning, your brickwork will be transformed so that it looks brand new again.
Steam Cleaning 
A form of brick and stone cleaning, steam cleaning is a very effective method that will remove moss and other deposits from your brickwork. Perfect for those looking to maintain their brickwork in the long term, it utilises the latest technology to create an extraordinary effect.
Replace Lintels 
In any brick building, lintels will need to be replaced from time to time. Steel or horizontal beams which run above your door or window, it ensures that the structural integrity of the building is maintained. 
Over the years, bricks will start to deteriorate due to the elements – so to guarantee that it's well-kept, you might need to replace a window lintel.
Fill Any Cracks of Holes
If you notice any cracks or holes – whether it's in your exterior wall, patio or driveway, it's a good idea to fill it. A hole or crack can not only put your building's integrity at risk, but can also pose a safety risk when it comes to people walking on your drive/driving onto it (an issue we will discuss further below).
Why it's Important To Maintain Your Brickwork
Not only is it important in the sense that it will keep the brickwork looking good for longer, but it will ensure that it's safe. You don't want to put you or your loved ones at risk because of faulty brickwork. 
You want to make sure that all of your walls are sealed correctly, any holes are filled in your driveway and that the brickwork isn't compromised in any way. Holes or cracks in bricks on your driveway could cause people to trip over or cars to have punctured wheels if they drive onto it too quickly. 
Contact us Today
At Token Cleaning Services, we offer an array of brick and stone cleaning services that are perfect for homeowners and business owners alike. Experts in the field, we use our skills and state of the art equipment to transform your brickwork. Maintaining it and ensuring that it's beautiful for longer, you'll love the results. 
To find out more about our services, don't hesitate to contact us today. You can do this by either calling us on 01279 422752, emailing us on office@tokencleaning.com or through our easy to use online form. We look forward to hearing from you. 
Graffiti can cause immediate and long-term damage to structures and communities, so it's important it's removed swiftly. Whilst some people maintain graffiti is an art form, the unauthorised application of graffiti is considered to be a criminal offence.
As well as causing damage to underlying paintwork and surfaces, graffiti can have a significant impact on property values. Both commercial and residential buyers or tenants tend to be put off if buildings are surrounding by unauthorised street art. As a result, you may find it difficult to obtain a fair price for your property and may have trouble selling or renting it at all.
In addition to this, graffiti can contain offensive wording and imagery. This can expose young people to inappropriate materials, cause distress and fear within communities and lead a rise in prejudice. Whilst any form of graffiti can be detrimental to a community, offensive street art can be particularly divisive and harmful.
Due to the financial, practical and societal damage graffiti can cause, it's important that it's removed quickly. As well as removing graffiti swiftly, property owners, tenants and local councils can help to reduce the amount of graffiti on our streets by using anti-graffiti protection and sealing.
How does graffiti removal work?
Graffiti is applied to various surfaces, including brick walls, concrete, painted structures, sculptures and even memorials. Due to its wide application, effective graffiti removal methods must be applicable in a variety of situations.
Technicians may need to remove graffiti from cladding, brickwork, stone, paving slabs, wood, iron, steel and various other materials. Crucially, graffiti must be removed completely without causing damage to the underlying surface or materials.
If a painted wall has been covered with spray paint graffiti, for example, technicians will need to use equipment which is capable of removing the spray paint without also removing the underlying paint.
As graffiti is present on so many different types of surfaces, professional evaluation is typically required before removal can occur. An experienced removal technician will be able to determine which graffiti removal methods can be utilised safely, depending on what type of material lies beneath it.
Similarly, a professional technician will also be able to determine which methods of graffiti removal will be successful, depending on how the graffiti has been applied. Spray paint typically requires more powerful removal than marker pens, for example.
With specialist expertise and experience, graffiti removal technicians can completely eradicate graffiti from all types of surfaces, regardless of whether they're porous or non-porous. In addition to this, professional graffiti removal equipment can access hard to reach areas and ensure that graffiti of public places can be fully removed.
Graffiti artists often apply graffiti to bridges, roofs and tunnels, for example. Whilst these areas can be difficult to access, specialist graffiti removal equipment is more than capable of adequately reaching affected areas and removing the offending imagery.
Once graffiti has been removed, a mark is often left behind. Known as a ghost mark, this still devalues properties and affects the aesthetics of communities. By using professional graffiti removal services, you can ensure ghost marks, as well as the graffiti itself, are completely removed from any surface.
Similarly, if adhesive materials, such as stickers or posters, have been applied to buildings, lampposts or railings, this can typically be removed too. Using the same specialist equipment and professional expertise, technicians can use industrial-grade materials to ensure the underlying surface is left in great condition.
How can you prevent graffiti?
Once graffiti has been fully removed, specialist graffiti prevention tools can be employed. Anti-graffiti coatings can be applied to any surface, including brickwork, metal and paint. As well as preventing paints and markers from adhering properly to the surface, anti-graffiti coatings make it far easier to remove subsequent graffiti.
Without an anti-graffiti coating, for example, specialist equipment and materials are usually required to remove graffiti. After an anti-graffiti coating has been applied, however, graffiti can typically be removed using warm water and gentle chemical solutions.
Similarly, pavement sealing is an effective way of removing graffiti of public places and keeping pathways clean and tidy. As well as reducing the impact of graffiti, pavement sealing also makes the removal of chewing gum and other materials far easier.
Whilst community efforts are changing the rate at which graffiti is applied, it is still prevalent in most urban areas. Due to this, specialist graffiti removal and anti-graffiti preventative measures are required to keep our streets, public spaces and buildings in good condition.
To find out more or to arrange graffiti removal now, contact Token Cleaning on 01279 422752 or 07860 233343.
---